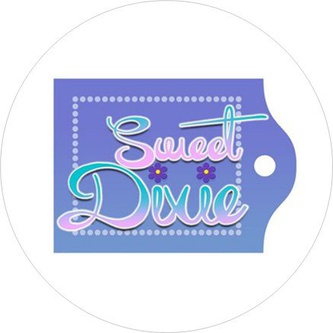 Sweet Dixie Angel Policy
We are delighted with your passion for our products.
Our "Angel Policy" protects our designers/artists from having their work stolen or misused.

Our in-house designs (including Richford Stamps and products supplied by Country Love Crafts) and the licensed, global brands we supply are often used by crafters to create items for sale e.g. greetings cards, tags, die-cuts, home decor items, stationery etc.
All designs are copyrighted. This means that they may not be copied without permission. To ensure that we protect all parties from the misuse of images, and to provide clear guidelines, we have produced an Angel Policy.
Our Policy
This policy protects:
the brands

the designer

the craft industry (and future product innovation)

the crafter who wants to sell their handmade products
Handcrafted Items:
Handcrafted items created for sale (or for commercial gain) must be personally and individually made by the selling artist.

We require that you endeavour to be limited in quantity and local in nature.

As a general rule, permission will be granted for the production of not more than 100 items in a 12-month period.

All items sold should be clearly marked Personal Impressions (or the relevant brand name, followed by the copyright symbol: ©.

Designs may not be reproduced or copied by any means (including graphically, digitally, electronically, mechanically or by photocopying).

Production by mass, hired workers or assembly-line fashion is strictly prohibited.

Excluding auction sites and online marketplaces, handmade projects may be sold at permanent retail locations, as well as temporary craft events, community fundraisers and over the internet.

In selling handmade projects the seller must make it clear that the items are handmade or personally created by the seller and not a product of the company and that the finished item includes designs that are copyrighted.

Any elements should not be used in a manner which may be considered harmful or bring the brand into disrepute.
Altered Artwork & Logos:
Designs and artwork supplied by Personal Impressions and our licenced brands may not be used for the purpose of creating logos, clip art, banners or artwork (including digital designs) of any kind.

Logos belonging to brand owners (or any copyright or trade mark belonging to a brand) may not be used or applied to any item.

No item may promote, imply or make reference to an endorsement/affiliation with Personal Impressions or our licensed brands.
Angel Policies from individual brands:
Some of the brands we represent have individual Angel Policies and these can be found by visiting the official brand website.

If you need further clarification or assistance, please contact call Personal Impressions on 01787 375241 or email: pisales@personalimpressions.com. We will then contact the brands directly.
Charities:
There is NO LIMIT to handmade items sold for charity, so long as they abide by the restrictions as stated in this policy.
Liability:
Participants in this Angel Policy assume all liability for the suitability of their work.
These guidelines may be modified from time to time at the discretion of our group. Last updated by Personal Impressions on 24th July 2018.